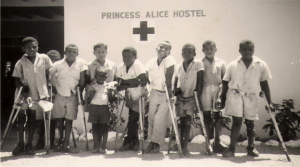 The Sir John Golding Rehabilitation Centre was established in 1954 by the late Professor Sir John Golding in response to a major poliomyelitis outbreak and is now the only integrated treatment and rehabilitation facility for the physically disabled in the English-speaking Caribbean. The Centre was renamed in 1996 after Sir John's death in March that year. Its primary purpose is to rehabilitate patients to a maximum level of function within the limits of their disability so they will be integrated into society.
The Centre offers nursing, medical, occupational therapy, physiotherapy, social work, dietetics and psychiatric services. It has capacity for over 75 inpatients – an adult ward (the Henriques Wing) holding approximately 35 patients and a paediatric ward holding 40 patients – and also treats outpatients. Patients are comprised of persons with spinal cord injuries, cerebral palsy, congenital deformities and other neurological conditions, as well as orthopaedic conditions (primarily amputations).  About 50 new cases are admitted annually.
Apart from treatment, it provides sports and vocational training for patients to promote rehabilitation, employs over 60 disabled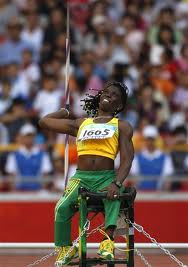 persons, and fabricates prostheses and orthotic aids for patients in need. There is also a private hostel, called the Athlone Wing, which provides 20 children with disabilities (up to the age of 18) with the opportunity to live there and attend schools in the area.
This multifaceted structure arose primarily because of the vision and energy of Sir John Golding, who conceptualized and founded these institutions. Several different entities manage different facets, as outlined below:
Rehabilitation hospital, funded by SERHA and managed under the Kingston Regional Hospitals
School of Physiotherapy under the University of the West Indies (UWI), Faculty of Medical Sciences (FMS)
Orthotic and prosthetic workshops, leather (shoe) workshop, and micro-industries for vocational training of disabled people under Mona Rehab Foundation